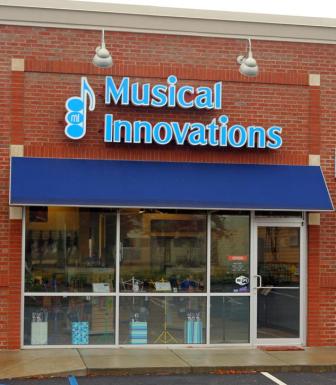 Welcome to your new favorite place for music stuff!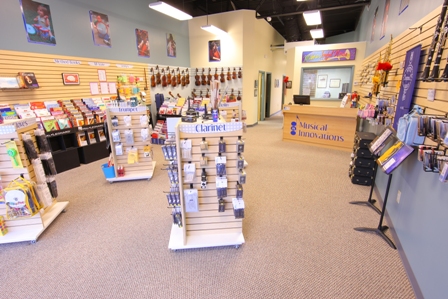 Come in and check out our great selection of band and string instruments,
sheet music and accessories,
all at surprisingly great prices!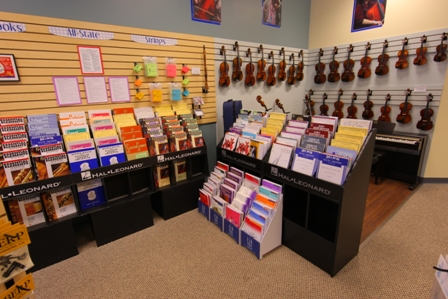 Our elite string shop, SC Strings offers the highest-quality violins, violas and cellos,
plus bows and other string accessories.

Our custom flute shop, Carolina Flutes, has the largest selection
of step-up and professional flutes in the state . . . why drive to Charlotte or Atlanta,
and pay more?

We also offer band and string repair, lessons, and flexible, affordable rental-purchase options.

Owner
Tracy Leenman -- Tracy E. Leenman received a Bachelor of Music (magna cum laude) degree from Syracuse University in 1977 in Choral and Instrumental Music Education. She earned a Master of Music in Music Education from Syracuse University, in 1983; and has done course work towards a Ph.D. in Music Education at the Eastman School of Music.

Mrs. Leenman has nearly 40 years of teaching experience. She has taught in both public and private schools, including the Greenville County Schools' Fine Arts Center. Under her direction, the Hampton Park Christian School Band won first place in statewide competition two years in a row. She was the featured guest conductor at the Twenty-Fifth Anniversary Spring Concert of The Kennedy Choir at John F. Kennedy High School in Plainview, NY (her alma mater). She has also conducted several all-region and all-city choral clinics in South Carolina, and has guest-conducted a number of middle- and high-school bands around the state. In 2009, she conducted the Region IV (PA) All-Directors' Band Clinic.

Tracy has also been a guest clinician and lecturer at a number of colleges and universities, as well as at two CMENC State-wide Leadership Conventions. Her articles on conducting/rehearsing techniques and score preparation are found in a number of college libraries as required reading for future educators.

In addition to her experience in the classroom, Mrs. Leenman has over 15 years' experience in the music industry. She served on NAMM's National Outreach Committee for The Charlie Horse Music Pizza Experience, helping design the materials used for this program. She presented the national pilot Experience in October 1997, and since January 1998, has presented Experiences for over 5,000 children around the state. For several years, she served as a liaison for Vh-1's "Save the Music" Program, helping Vh-1 create and support music programs in South Carolina, and hosted the South Carolina Vh-1 "Save the Music" Kickoff Event in Columbia (SC) in 2001.

Mrs. Leenman has done educational clinics and workshops around the country on a number of topics. She has also presented sessions at NASMD, RPMDA and NAMM conventions. In 2009, she was a guest clinician at the Total Band Director Workshop in Wichita, KS.

For over a decade, Mrs. Leenman served as the Music Industry Representative to the Executive Board of the South Carolina Music Educators Association, and as President of the South Carolina Coalition for Music Education. She recently served on the Board of Directors of the National Association of School Music Dealers and is currently representative to the SupportMusic.com Coalition. She has also served on Gemeinhardt Teachers' Advisory Council and on the faculty of Knilling String University. A published arranger and author, she has had articles featured in Teaching Music, Music Inc., SB&O, ABA Associates Newsletter and the NAMM News; and writes regularly for the South Carolina Musician, Mississippi Bandmaster and School Music Dealer magazines.

As a clinician, she has presented sessions at MENC National Conferences, Southern Division Conferences, SCMEA in-service conventions, and at school district in-services all over South Carolina. Mrs. Leenman plays bassoon with the Palmetto Concert Band and the Foothills Philharmonic Orchestra. In 2006, she was awarded Phil Beta Mu Outstanding Contributor award for her contributions to music education in South Carolina. In 2009, she was awarded the SCMEA Friend of Music Business Award, and the KEYS Program Keeping the Beat Music Advocacy Award.

Mrs. Leenman and her husband, Koas, an architect, have six children and 11 grandchildren. In 1988, Mrs. Leenman was named the Palmetto State Parents of Multiples' Mother of the Year.


Education Specialist
D. Vincent Clayton -- D. Vincent Clayton has retired after 34 years of teaching, the last 21 years at Ridge View High School in Columbia, South Carolina. He received both the Bachelor of Music Education and Master of Music Education degrees from the University of South Carolina.

Under his direction, the Ridge View band program received numerous Superior Ratings and awards in marching and concert events. The Blazer Marching Band was a consistent finalist at the South Carolina State Championships and at several Bands of America Regional competitions. The Ridge View Symphonic Band received numerous Superior Ratings at state and national events. They performed at the Bands of America National Concert Festival, four times at the South Carolina Music Educators State Convention, twice at the University of South Carolina Band Clinic, the University of Southern Mississippi Band Clinic, and the Grand National Adjudicators Invitational.

His professional affiliations include the National Association for Music Education; the National Band Association; the South Carolina Band Directors Association; Phi Beta Mu;Pi Kappa Lambda; and he is a Past Chapter President of Phi Mu Alpha Sinfonia. He is also a charter member and Past President of the Palmetto Concert Band. Mr. Clayton received the National Band Association's "Citation of Excellence" on five different occasions, the John Philip Sousa Foundation's "Legion of Honor", Phi Beta Mu's "Outstanding Bandmaster Award", and in 2016, Mr. Clayton was inducted in both the South Carolina Band Directors Association's and the Phi Beta Mu's "Hall of Fame".

Mr. Clayton and his wife Leslie have two children, Grant and Kelsey, and two granddaughters, Taylor and Madison.




Education and Tuba/Euphonium Specialist
Scott Parker -- Scott has been with Musical Innovations since 2014. He is a native of Columbia, South Carolina where he attended Summit Parkway Middle School and Ridge View High School. Scott was principal tubist in the SC All-State Band from 2000-2005. He also served as principal tubist for the Bands of America National Honor Band, USC Band Clinic Symphonic band, and was a recipient of the John Philip Sousa Award. He majored in music education at the University of South Carolina from 2005-2010. He served as principal euphonium in the University's Symphonic Band under James K. Copenhaver from 2006-2010. He is currently an active member of the Palmetto Concert Band, Upstate Winds, Carolina Wind Symphony, and Foothills Philharmonic.

Scott taught golf in the Midlands from 2010-2014 at Weed Hill Driving Range in Irmo, SC.

Scott is an alumnus of Carolina Crown Drum and Bugle Corps. He served on the brass staffs for Carolina Gold Drum and Bugle Corps, Jersey Surf Drum and Bugle Corps, and Platinum Drum and Bugle Corps. He served as an assistant band director at Chapin High School from 2006-2010 and has been a guest clinician in South Carolina, North Carolina, Virginia, Georgia, Tennessee, Maryland, and New Jersey.

Scott lives in Lexington, SC with his wife Elizabeth.




Education and Low Brass Specialist
Wendy StJohn -- Wendy StJohn studied voice and bass trombone at Iowa State University under Mary Creswell and Dr. David Stuart respectively. She has performed in numerous ensembles ranging from full orchestras to big bands to quintets and everything in between. She attributes her love of music to all of her music teachers and stays in contact with them to this day. Wendy has a genuine passion for learning and is always looking for new ways to enhance her own playing and musical knowledge.

Wendy has been serving schools over the southeast for the past six years and is happy to be expanding her school service into the Carolinas. As a member of the National Association of School Music Dealers (NASMD) and the Retail Print Music Dealers (RPMDA), Wendy is able to stay up-to-date on what is happening within the industry to better serve her schools .

Wendy is married and enjoys sharing her passion for music with not only her own son, but with anyone who is willing to listen.
Education and Trombone Specialist
Bobby Powell -- Bobby is the Music Education Coordinator for Musical Innovations. His responsibilities include connecting musicians and educators to the resources they need, serving as a liaison between educators and instrument manufacturers, overseeing instrument repair, and supervising the education team for Musical Innovations. He also performs a large portion of our in-house repairs.

In addition to his position at Musical Innovations, Bobby is also the Artistic Director and Conductor of the Upstate Winds Concert Band and Co-Founder and Principal Trombonist of the Corridor Brass.

As an active freelance trombonist, he performs regularly in concert halls, churches, and other performance venues. He has performed as a member of the Palmetto Concert Band and the Palmetto Posaunen. He currently plays and conducts as a member of the Blue Ridge Symphonic Brass, the Corridor Brass, the Upstate Winds Concert Band, and the Foothills Philharmonic. Performance opportunities have taken Bobby to many places including the Midwest International Band and Orchestra Clinic, the American Bandmasters Association Convention, the Music Educators Association Conventions of South Carolina and North Carolina, the Spoleto Festival, the International Trombone Festival, and the Eastern Trombone Workshop.

Prior to his arrival at Musical Innovations, Bobby enjoyed a very successful career as a school band director, in which he guided his ensembles to critical acclaim at music festivals and competitions both at home in South Carolina and across the country. His bands were consistently recognized for their excellence in musicianship as well as their discipline and character.


Education and Clarinet/Saxophone Specialist
Kory Vrieze -- Kory Vrieze, Music Education Specialist at Musical Innovations, received his B.M. in Music Education from Berry College and did his graduate studies at University of South Dakota in History of Musical Instruments where he studied at the Shrine to Music Museum. Prior to Riverside High School, Mr. Vrieze spent four years teaching at Chamberlain High School in South Dakota, followed by schools in Georgia and North Carolina. He spent 10 years teaching at Riverside High School. After his arrival at Riverside in 2004, the band program more than tripled in size and scope, adding jazz band, winter guard and winter drumline, while growing a top rate concert program. They have participated in Disney Magic Music Days and the Gator Bowl as well as receiving superior ratings at home.

In 2010, Mr. Vrieze was named Artistic Director of the Foothills Philharmonic, a community orchestra in Greenville. The orchestra provides quality concerts to the public for free.

Mr. Vrieze also formerly served as Manager of Education at the New Jersey Symphony which included working with the Greater Newark Youth Orchestra, the Newark Early Strings Program and the North Star Program. After several summers on faculty at the Sewanee Summer Music Festival, he was promoted to Festival Coordinator for the 2002 and 2003 seasons.

Mr. Vrieze currently holds the position of Adjunct Professor of Woodwinds at Erskine College. He has enjoyed performing as well as teaching by playing principal clarinet in the Huron Symphony, the Golden Isles Symphony and the Cherokee Symphony. He also plays in area groups such as Upstate Winds and the Greenville Jazz Ensemble and has spent several summers playing in the Sewanee Festival Orchestra.

Mr. Vrieze has held memberships in the Music Educators National Conference, South Carolina Band Directors Association and has been the local president for the National Education Association in Chamberlain, South Dakota.




Educational Consultant
Bob Powell -- Bob Powell served the school band programs of South Carolina for 35 years as a director. Performing ensembles under his direction or with which he was associated have performed at the State Music Conference, won state and regional championships, and received the highest marks at festivals and competitions. Known as a humble and quiet man to all, he has been praised as a master teacher throughout his career. With countless awards for him and his students, he has been recognized as an authority on band pedagogy. Bob has been the recipient of the "Teacher of the Year" award on four occasions. He has served the South Carolina Band Directors Association on the Executive Board, guest conducted concerts and clinics, and is an elected member and past president of the Phi Beta Mu International Bandmasters Fraternity. Since his retirement from full time teaching, he has served as adjunct faculty at Furman University and spent time helping band programs as a clinician for Musical Innovations.

Bob served in the United States Navy as a trumpet player stationed in Norfolk, VA and as the director of the Drum and Bugle Corps stationed in San Diego, CA. For the past 30 years, Bob has come over to the dark side...literally...the dark and rich low brass section as a euphonium and trombone player. In addition to his euphonium duties in Upstate Winds, he performs as a member of the Lakeside Concert Band at Furman University, the Foothills Philharmonic Orchestra, and Bonovate, a trombone ensemble based in Greenville, SC.

When he is not practicing, performing, or teaching, Bob can be found in his shop repairing instruments or making sawdust.




Purchasing
Heather McNeely -- Heather McNeely received a bachelor's degree in trumpet performance from Bob Jones University, a master's degree in musicology from Converse College, and a Doctor of Musical Arts in music education from Boston University. For thirteen years she taught music history courses and applied trumpet lessons as an assistant professor of music at Bob Jones University. As a scholar, Heather specializes in quantitative research in music education and music appreciation and music history pedagogy; other research interests include ethnomusicology, feminist theory, trumpet pedagogy, and African-American music and culture. As a trumpet player, Heather enjoys performing for local events in the Greenville area. Heather's hobbies include running and cycling, and she recently completed the 2016 Boston Marathon. Heather and her husband Brent have four children who keep their lives very busy.




Musical Innovations



150 Tanner Road at Butler
Greenville, SC 29607
| | |
| --- | --- |
| Mon | 11:30 - 4 |
| Tue | 11:30 - 4 |
| Wed | 11:30 - 4 |
| Thu | 11:30 - 4 |
| Fri | 11:30 - 4 |
| Sat | 11:30 - 3 |
| Sun | The Lord's Day |



Your use of this site indicates your agreement to be bound by our Terms and Conditions. All prices and products subject to final price confirmation by the retailer. All contents © Copyright 1999- Retail Up! and Musical Innovations. All rights reserved. This internet site is hosted by Retail Up!, a web site service provider to fine music stores nationwide.